New Balance Employs 475 in Lawrence
Are We Supporting Our Local Workers?

Massachusetts News
By John Pike

October 1--Massachusetts once manufactured most of the world's shoes, and it was the state's dominant industry. New Balance Athletic Shoe still does manufacture shoes in Massachusetts, in Lawrence and Brighton.

Standing in an old textile manufacturing building (another lost Massachusetts industry) at her station on the athletic-shoe assembly line, beaming Carmen Arias from the Dominican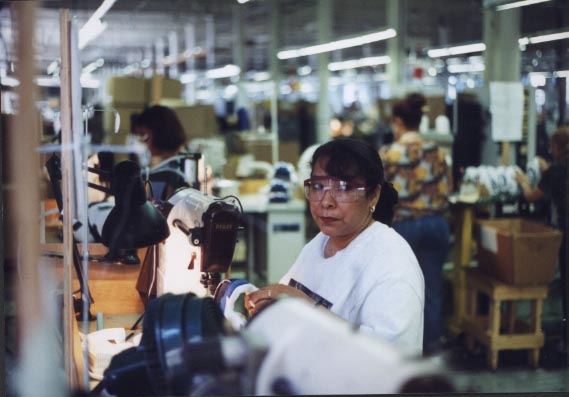 Republic says she "loves working here. It is a good experience." Working at New Balance for almost two years to help support her family, Arias earns about $10 hourly with health benefits.
Located on the banks of the Merrimack River in a city with a paucity of employment opportunities, the Lawrence factory employs about 475 people. New Balance provides full-time jobs in a tough business for a population group which has difficulty finding employment.
Founded in Watertown in 1906, New Balance also manufactures in Brighton (with 314 employees), three Maine factories, and also overseas, including China, Taiwan, and Korea.
Shoe manufacturers left Massachusetts starting after the First World War because of, they said, higher production costs here than elsewhere in the United States or overseas, such as wages, union demands, and government regulations. Workers in Asia oftentimes earn less than a dollar per hour.
But New Balance is making it in Massachusetts, making a profit, and making our economy better.
Lawrence Plant Doing Well
"The Lawrence plant is going well," says a New Balance spokesman. "It is working for us. Domestic manufacturing helps us put out high quality products in a timely manner and at a competitive price."
John Wilson, vice-president of domestic manufacturing told Massachusetts News that New Balance is able to manufacture 3,000 shoes daily in Lawrence profitably because of a streamlined and efficient team-approach manufacturing process. Each section of the semi-automatic assembly line is integrated with adjacent sections which minimizes bottlenecks and costs.
Some of the family-run Massachusetts shoe manufacturers went out of business or went overseas when the pressure came because they were not ready to update their managerial structure, says Wilson. "The family businesses were not prepared for the 1980s."
Speaking eruditely in the lunchroom of the Lawrence factory, Wilson explains he is able to overcome the higher domestic labor costs through automation, where as plants in China are virtually without high-tech machinery. "We produce in Lawrence with 22 individuals what it takes overseas with 100." About 15 percent of the costs in Lawrence is labor.
Wilson does not lay blame on government regulations for providing difficulty for in-state shoe manufacturing because he says laws such as safety in the workplace are important, but adds unions can be vexing to the already troubled Massachusetts industry. "Unions hinder communication with management and employees, worker involvement, and getting the job done. Unions make it less efficient and more difficult."
The Lawrence factory is union-free, but recently the Union of Needletrades, Industrial and Textile Employees has been pressuring other parts of the company.
New Balance Made The Investments
Wilson says part of the reason shoe manufacturing fled the United States is that Asian companies made the necessary technological advances and domestic firms did not. "The highly technological parts of the sneaker were made outside the U.S., so instead of shipping these special parts to domestic factories, some companies found it easier to move their factories to where these parts are made."
New Balance augments its U.S. production by contracting work out to both domestic and overseas shoe factories. Many of its shoes are made domestically using some Chinese materials. In those cases, company officials say 70 percent of the shoes' value in dollars and labor comes from the U.S.
Many of the shoes made overseas are sold abroad, say officials. And while New Balance manufactures here in the Bay State, helping the economy with about 1,000 U.S. workers, endorsed by no one, Stoughton based Reebok International Ltd. has jammed millions into the bank accounts of athletes while cutting jobs here in Massachusetts. New Balance has instead focused on creating athletic shoes in a variety of widths so they fit properly, something few other companies do as well.
Wilson can fill a book about all the ways he says New Balance keeps their expenses down, while their competitors sometimes do not, but according to him the costs of producing shoes in Lawrence are similar in most cases. He adds that the two venues cannot be compared accurately.
Upholding Tradition
Shoe production in America began in Massachusetts when Thomas Beard, a settler from England, began making shoes in Salem in 1629. Shoemaking became increasingly mechanized throughout the 19th century, and new factories in growing Massachusetts cities made the state the world leader.
Both Brockton and Haverhill claimed the title of "Shoe City." Brockton specialized in men's shoes, while women's shoes were manufactured in the Haverhill area. Lynn and Lawrence also manufactured lots of shoes.
Although business boomed in the first half of the 20th century, as the two world wars increased demand for shoes, the seeds of decline for shoemaking in the state had been planted. New centers of production were sprouting in the South and West of the United States. In the 1960s and 1970s, the industry moved again, this time to Korea, Taiwan and other East Asian countries, where labor was cheaper still.
At the turn of the century, the region south of Boston was the center of the nation's shoe industry. In Brockton, trolleys clattered into the city bringing thousands of workers to the factories every day. Trains that served the entire East Coast transported the finished products from the more than 100 factories in the city.
The scene was repeated on a smaller scale in smaller town centers in Massachusetts.
Bridgewater historian Kenneth Moore says, "We had special trains from Fall River and New Bedford bringing workers to the factories."
Two other shoe factories are still operating. Foot-Joy, a world leader in golf shoes, still turns out hundreds of shoes daily at its Field Street plant in Brockton.
The Alden Shoe Co. in Middleborough, a 115-year-old company, produces top-of-the-line men's dress shoes.
And if manufacturing is to stay and prosper in the Bay State, employing women like Carmen Arias, guys like Wilson, and companies like New Balance, are going to make it happen.